1999
TV series - 13 x 5 minutes
DIRECTOR: Sergi Camara
PRODUCER: STUDIO CAMARA / PPM Multimedia
SCRIPT: Sergi Camara
AUDIENCE: preschool
VERSIONS: English
Synopsis
Gerard is a child who is about three or four years old, with a great power of imagination and sense of humor.
Along the thirteen episodes which compose the series, Gerard will go on discovering everithing around him, like for instance: colours, animals, numbers, music, instruments...
Gerard will get to know his nvironment but not in the way an adult would. On the contrary in each adventure Gerard will go through entertaining situations in which basic elements and objects will come ti life and create never-ending comical, educating and entertaining situations for the whole family.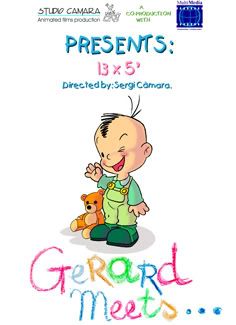 Episode # 01Color, color... (Fragment)